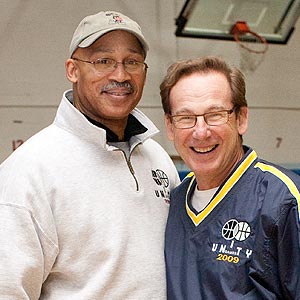 The Unity Games were inspired in 2003 following a series of racial incidents in various sports leagues across the country. After many years of my close associations with young athletes, I realized that more and more there is little contact between athletes of different backgrounds.
My dear friend Jacob Carey and I have spent years involved with basketball and young athletes. We both had a similar dream. The Unity Games is our attempt to try to make our communities interact in a gainful endeavor."
Dr. Mark F. Sherman, MD, co-founder
The Problem
Young People of Different Races and Ethnicities Do Not Socialize With One Another.
Across the United States, young people develop irrational attitudes about who their friends should be. This development is not set in stone. Elementary school children work and play together without regard to arbitrary differences in race or ethnicity. But, by the time they reach high school, they almost invariably choose to stay with their own.
While teens may attend the same classes and play on the same sports teams as those who are different, they don't choose to spend time together having lunch, hanging out, or even walking between classes.
The unfortunate result is a society in which the individual is judged by his or her appearance, not by what he or she is or is capable of.
Our Solution
The Unity Games Bring Together Diverse Boys and Girls to Play Basketball and Learn About Each Other.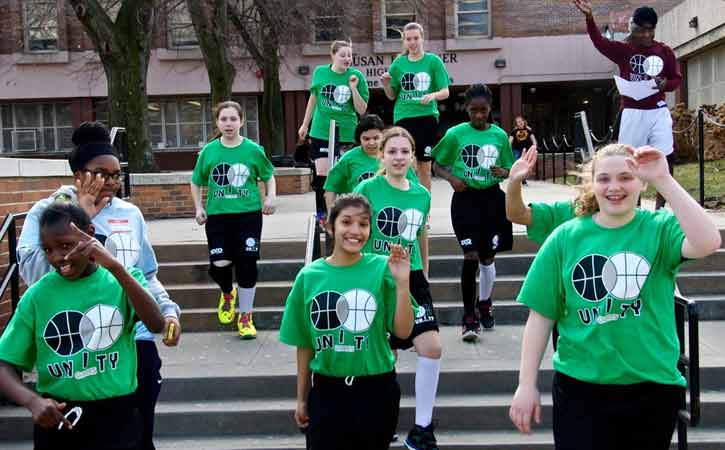 The Right Game:
Basketball
The Unity Games are not about basketball, but basketball is the means to reach out to the youth in the community. Participants are distributed onto teams to assure that each team is diverse and equal in abilities. The Unity Games are a two-day marathon of scheduled activities — basketball games, workshops, contests, and meals — that lay a foundation for the participants to get to know each other and to bridge the divide on their own.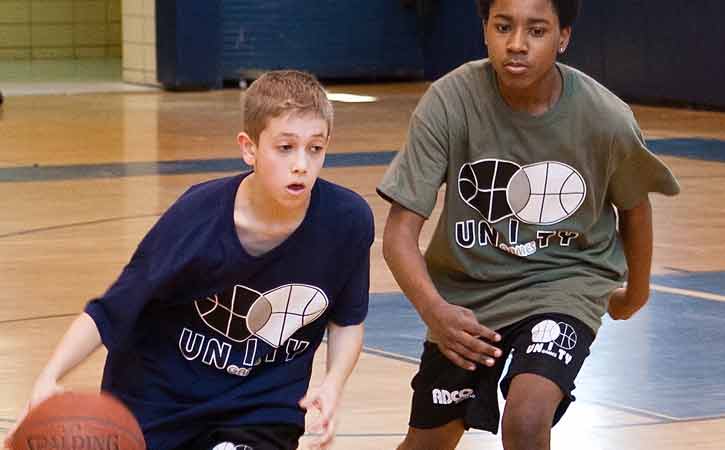 The Right Age:
6th, 7th & 8th Graders
6th, 7th and 8th graders are on the cusp of thinking independently, but are still malleable. Because they are still in intermediate school, they have not yet been exposed to as much negative stereotyping as those in high school. Individually and as a group, they are more open to positive experiences when presented in an interesting way.
The Right Staff:
Diverse & Inspiring
The key to the success of the Unity Games is the careful selection of a diverse and committed staff. Education professionals with records of success lead workshops and activities. Rigorous training assures that every coach and staff member understands their role and the objectives of the Games.
The Details
The Unity Games Span One Full Weekend Each Year. Who can attend?
6th, 7th and 8th grade boys and girls who enjoy basketball and want an exciting experience. What happens during the games?
Basketball games, clinics, and contests
Cultural enrichment and educational workshops
Celebrity guest speakers, game room, DJ, arts & crafts
Breakfast, lunch, snacks, and refreshments What's the cost?
Absolutely FREE!
And the Games include:

Team uniforms (shirts, shorts and socks provided)
Giveaways for all participants
Meals for both days
Busing is available if needed
Our Results
Fourteen Years of Successfully Forging Lasting Friendships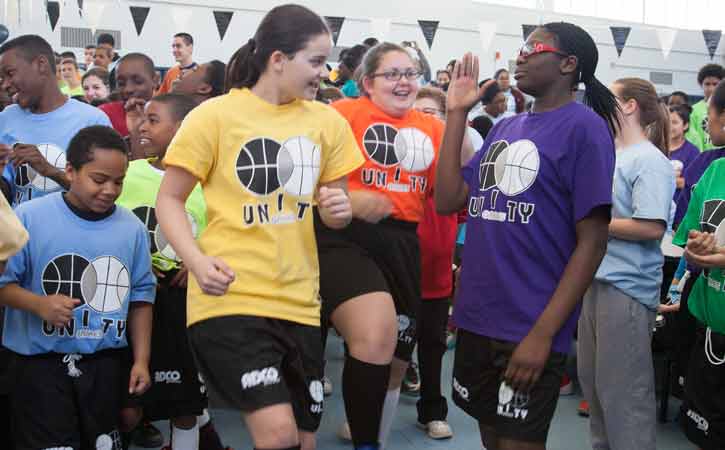 The Unity Games Fosters New Friendships
Nearly every young person who participated in the 2010 Unity Games reported having made new friends during the Games, and 97% of those who did make friends reported they were of a different race or ethnicity. Over three-quarters (76%) believed it to be likely or very likely that they would stay in touch with some of the youth they met during the Unity Games.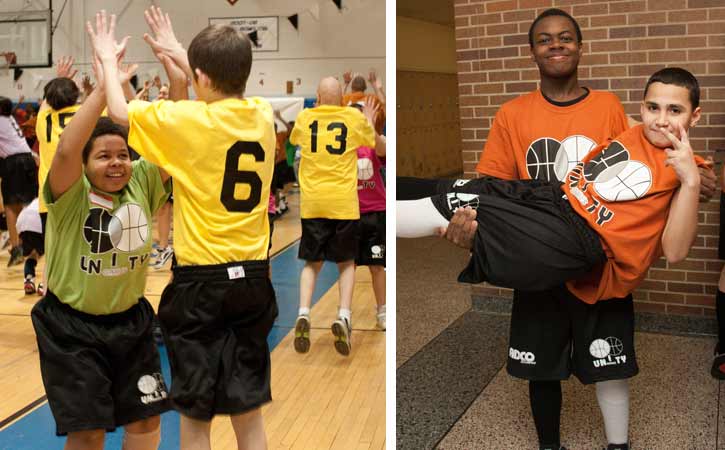 The Friendships Are Long-Lasting
A follow-up study conducted six months after the 2009 Unity Games demonstrated that not only did nearly all of the participants make a friend of a different race or culture during the games, but six in ten stayed in contact with their new friends and a third invited these new friends to come to their homes.
The Unity Games are made possible through the generosity of our sponsors. Learn how to donate or sponsor.
The Plan
Each year the Unity Games have continued to grow.  Approximately one half of current participants now travel from across the northeast to attend the Unity Games, and we plan to continue to grow locally, regionally, and nationally. 
The Unity Games are easily transferable to other parts of the country.  The organizations that have helped organize the Unity Games, the JCC, YMCA, and CYO, have community centers across the United States, and similar community organizations exist in every town and city.  These organizations can serve as bases for expansion of the Unity Games.  If you want to host a Unity Games in your city or town, or want to organize a team to send to the Unity Games, please contact us.